Allinpay won the "Excellent Cross-border E-commerce Financial Service Provider" award
On June 18th, "The 5th Global Cross-border E-commerce Festival and the 7th Shenzhen International Cross-border E-commerce Trade Expo of 2022" was grandly opened in Shenzhen Futian Convention and Exhibition Center. With the theme of "Culture Crosses border, Brands Go Abroad, Empower Country with Wisdom", this year's Global Cross-border E-commerce Festival gathers nearly 4,000 cross-border e-commerce exhibitors all over the world. This exhibition is displayed with the elements of brand culture, integrating local sources and cross-border businesses to deliver Chinese brands to the whole world. Allinpay Guangdong Branch was invited to participate in this Expo and won the award of "Excellent Cross-border E-commerce Financial Service Provider".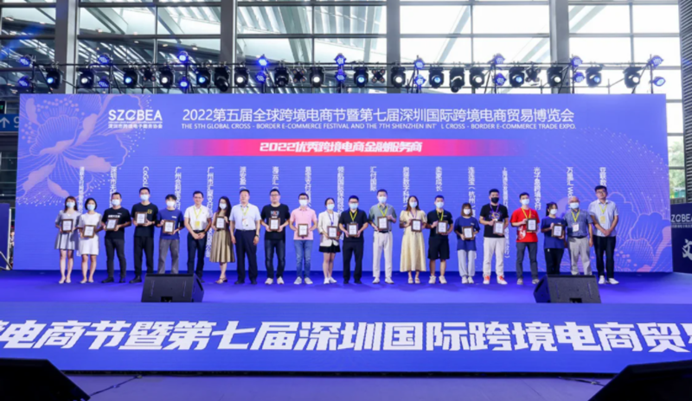 In recent years, Allinpay has constantly deepen the cross-border ecosystem. According to different types of enterprise merchants and subdivided business scenarios, Allinpay focuses on global cross-border business and creates a one-stop cross-border integrated service solution integrating import, export and additional services. Its high-quality, diversified and compliant products and services have been affirmed and praised by industry partners and service providers, and have successively won awards from VISA, an international card organization, "Outstanding Contribution Award for Online Payment", "Excellent Acquiring Partner Award" of American Express and other awards. This honorary represents the industry's high recognition of the achievements of Allinpay in the cross-border field, and demonstrates the brand influence and industry status of Allinpay cross-border business once again.
With the issuance of the "Notice on Supporting Cross-border RMB Settlement of New Foreign Trade Formats", the development of cross-border e-commerce will reach a new level. Allinpay will seize the window opportunity to bring forth new ideas based on the advantage of "payment + financial technology" with greater efforts and faster speed.
Allinpay not only provides safer and more efficient cross-border payment services for the cross-border e-commerce industry, It will also help cross-border e-commerce enterprises to reduce costs, increase efficiency, transform and upgrade. It will also integrate resources from all parties in the linked industry, support and guide the healthy and sustainable innovation and development of the cross-border payment industry with diversified and all-round professional services. Allinpay is going to stimulate the potential vitality of the cross-border payment market, and give full play to the positive role of payment in serving the real economy and promoting the high-quality development of the cross-border industry.