"Yunshangtong" of Allinpay had won the 2020's Shanghai Financial Innovation Award
Recently, the Shanghai Municipal People's Government issued the "Decision on Commending the Winning Projects of the 2020's Shanghai Financial Innovation Award", and the 2020's Shanghai Financial Innovation Award was officially announced. The "Yunshangtong" of Allinpay, a merchant service platform based on big data, stood out from the participating projects of hundreds of financial institutions and won the 2020's Shanghai Financial Innovation Achievement Award.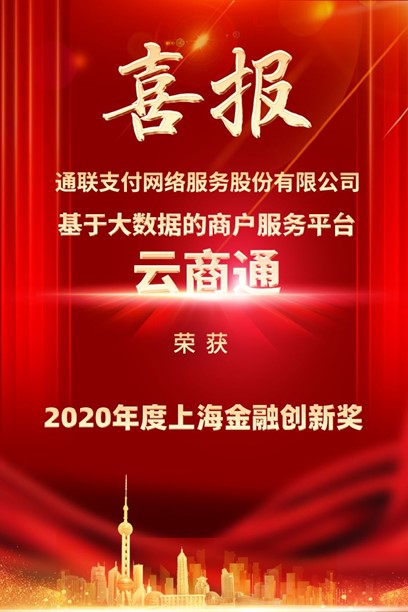 Recently years, with the continuous application of new technologies , such as big data, artificial intelligence and blockchain in the financial industry, fintech has set off a global upsurge, which has stimulated a powerful driving force for innovation and development. Shanghai, which is steadily advancing the construction of an international financial center, has led this trend and started the process of building a globally competitive fintech center. In this process, all parties in the financial industry actively promote transformation and upgrading, intensify scientific and technological innovation, optimize and upgrade products and services. A large number of outstanding achievements with strong innovation and good demonstration are emerging.
The establishment of Shanghai Financial Innovation Award aims to recognize institutions that have made outstanding contributions to Shanghai's financial service innovation, financial environment optimization and international financial center construction. It is the first provincial and ministerial government award focusing on financial innovation in China, and it is also one of the most valuable awards in the field of financial innovation, it witnesses the development process of Shanghai's financial innovation.
As an indispensable part of economic activities, payment industry has become an important driving force for the vigorous development of China's economic new kinetic energy, new formats and new models, and also an important component of financial technology innovation. Based in Shanghai, Allinpay is deeply involved in the payment industry. As a pioneer and leader of the industry, we always follow the pace of Shanghai's financial innovation and development, constantly upgrade products and services, and actively promote the deep integration of fintech and digital economy based on payment, helping Shanghai to open up a vast blue ocean of fintech innovation and development.
The project of "Merchant Service Platform Based on Big Data" is one of the innovative achievements of Allinpay to promote the digital transformation and development of payment-empowering enterprises. In April 2021, it was officially selected as a pilot project of fintech innovation supervision in Shanghai, and successfully passed the review by the expert group. The "Yunshangtong" is the fist product of Allinpay's digital transformation strategy which is created by relying on the platform's capability advantages. "Yunshangtong" promotes the intelligence of enterprise accounting management and the digitalization of enterprise operation.
At present, scientific and technological innovation and industrial transformation are booming, digital economy continues to penetrate into all walks of life, digital transformation and upgrading of traditional industries are accelerating, and enterprises are increasingly demanding capital security and capital management. To speed up the pace of building a digital society, base on the new requirements of enterprise, Allinpay has launched "Yunshangtong" , the Intelligent Accounting Management Product. This product has the functions of user management, order management, intelligent accounting, balance management, etc., and can superimpose payment, finance, marketing drainage and other functions. It can customize solutions according to the requirements of enterprise users, and realize safer clearing and settlement, more efficient reconciliation management, smarter fund management and extensible value-added services. Through the digital operation service of "Yunshangtong", it can help enterprises optimize customer experience, improve operational efficiency and enhance operational vitality. Till now,"Yunshangtong" has been widely used in retail chain, e-commerce platform, group supply chain, park property and other industries, which has produced remarkable economic value and social benefits, achieved rich demonstration application results, and won high recognition and praise from enterprise customers.
Next, Allinpay will continue to rely on payment, strengthen fintech innovation, continuously empower the digital development of the real economy, and contribute to the construction of Shanghai International Financial Center and Science and Technology Innovation Center.