Focus on China International Import Expo: Allinpay Seeks Common Development of Global Trade Facilitation in the Digital Age
The 4th China International Import Expo was held in Shanghai from November 5th to 10th in 2021. This year's China International Import Expo attracted 58 countries and 3 international organizations by combining online and offline, and nearly 3,000 exhibitors from 127 countries and regions entered the enterprise exhibition, with an overall scale exceeding that of the previous year. As a leading fintech service enterprise in the payment industry, it was the fourth time that Allinpay led Tonghua Jinkong, the Hong Kong subsidiary, to appear in this China International Import Expo. Allinpay helps cross-border trade move towards a more open, inclusive, balanced and win-win development direction. In CIIE, the exhibition area of Allinpay attracted the attention of Guangdong Satellite TV news broadcast.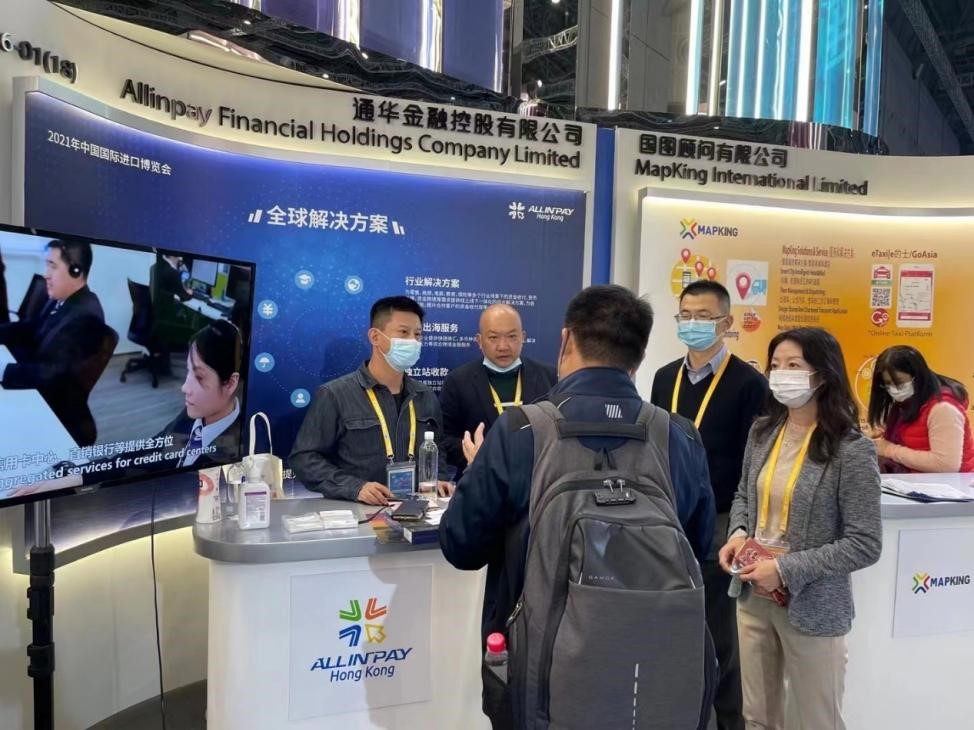 In the digital age of trade, joinning hands with cross-border e-commerce to face opportunities and challenges
At present, digital economy has become the engine driving the development of global trade, and digital trade is reconstructing global trade chains. As an important part of digital trade, cross-border e-commerce will play a leading role in future trade digitalization and become an important way to promote global trade and global consumption. On the other hand, based on the first year of the "14th Five-Year Plan" and entering the post-epidemic era, the government is vigorously promoting the construction and formation of a new development strategy of double circulation, and the construction of a modern circulation system is of great significance to the construction of a new development strategy. As the connection point of trade circulation, payment industry is an important part of the new development strategy, and it is also a key link for cross-border e-commerce to seek high-quality development. Under this background, as a payment institution that has participated in the exhibition four times, with rich industry experience, with professional and mature service capabilities, focusing on global acquiring and payment business, Allinpay brought global integrated fund management solutions including products such as "Baoshuitong", "Jiehuitong" and Cross-border Integrated Service Platform, helping Chinese enterprises to carry out global business more conveniently and realize overseas development.
Help cross-border e-commerce development and provide one-stop solutions
With the continuous expansion of cross-border payment business, Allinpay has gradually formed a diversified cross-border payment products system and mature comprehensive trade service solutions for different enterprises and institutions, which can meet diversity payment requirements.
Provide Overseas Account Services: To open overseas bank accounts for traditional trading enterprises and cross-border e-commerce enterprises, and to provide comprehensive account services, currency exchange services and multi-currency wallet services for enterprises.
Industry Solutions: To provide online and offline integrated comprehensive solutions for the requirements of fund collection and payment, currency exchange and cross-border funds in retail, business travel, e-commerce, education, insurance and other industry scenarios, to empower various industries and improve the efficiency of fund collection and payment of cooperative customers.
Cross-border capital service: Full licenses domestic and overseas licenses provide capital declaration as well as entrance and exit services for enterprises and individuals.
Enterprises' overseas service: To provide comprehensive cross-border financial services such as quick exchange of foreign exchange, multi-currency fund allocation, diversified sales channels, and solving the pressure of capital flow for overseas enterprises.
Global Receipt and Payment Service: To build a complete global clearing and settlement service system to provide global fund receipt and payment services for enterprises and individuals.
Independent station collection: To provide international credit card collection services and comprehensive collection services for overseas fund distribution and foreign exchange settlement and entry for cross-border e-commerce independent stations.
Qualification with complete compliance, Business with mature and diversification
Deeply cultivating the payment industry for more than ten years, Allinpay's service network covers the whole country and reaches Hong Kong, Singapore and other regions. It is the first batch to obtain the qualification of cross-border foreign exchange and CNY payment, and it is also one of the few payment insititution in China with the membership qualification of six international card organizations. Meanwhile, Allinpay is the customs declaration company registered by the national customs. Focusing on the blue ocean market of cross-border payment, Allinpay leads the whole industry which has made great efforts to lay out cross-border payment business, based on industry solutions and customized services of enterprises, and provided increasingly mature cross-border payment solutions and diversified cross-border products according to the needs of different cross-border merchants.
With the help of the platform of China International Import Expo, based on cross-border payment, Allinpay has advantages of qualifications, scenarios, resources and technology, and takes fintech solutions as the carrier to effectively connect domestic purchasers and overseas exhibitors. Allinpay tries its best to build a safer, more convenient and intelligent payment bridge for import and export bilateral trade. In the future, based on the digital transformation of enterprises empowered by payment, Allinpay will lay out the cross-border payment business field in depth, focus on the needs of cross-border import and export enterprises, constantly improve and enrich product capabilities, provide multi-level and customized value-added services, promote the digital upgrading and business model innovation of foreign trade enterprises under the background of global trade digital era, make full use of the window and opportunity of China International Import Expo, jointly serve to build a new pattern of double circulation, and enter the new digital era together.